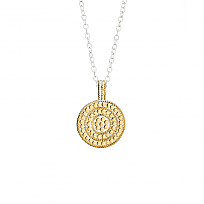 Signature dot appliqués and twisted metalwork alternate in an exquisite pendant necklace that represents the beautifully intricate circle of life.
Reversible…sterling silver on one side and gold vermeil on the reverse
Designed with the intention to give back to Bali—where Anna Beck's pieces are masterfully handcrafted—Anna Beck donates 30% of net profits from this style to Bumi Sehat Foundation, which provides health and emergency care for families and expectant mothers in need.
Price: $175.00
Available: This item is available in the store.