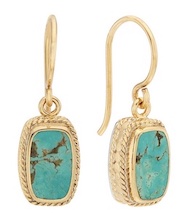 With a sleek modern shape, our cushion drop earrings show off inlay turquoise stones that contrast beautifully with the warm gold setting. Handmade in Bali.
PRODUCT DETAILS:
Handmade in Bali
18k gold plated over sterling silver
Earring Length: 1/2″
Earring Width: 5/16″
Price: $250.00
Available: This item is available in the store.