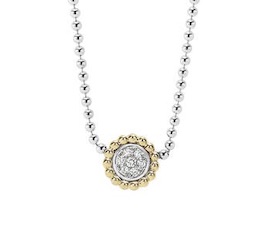 A diamond circle pendant set in sterling silver with 18K gold Caviar on an adjustable 16 to 18 inch necklace. Finished with a lobster clasp. LAGOS diamonds are the highest quality natural stones.
Sterling Silver & 18K Gold
0.07 Carat
Necklace adjustable 16 to 18 Inches
Diameter 9mm
Price: $495.00
Available: This item is available in the store.