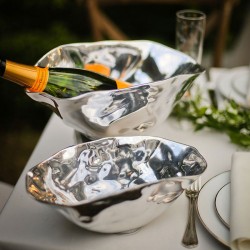 Soho Micalli Medium Oval bowl
With a richly vibrant surface, and unexpected sculptural form, the bowl is a triumph in the art of sand-casting.
Perfect for hot or cold foods, and may be chilled or heated before serving. Makes a unique gift!
Made of a top quality, FDA safe, easy-care, oven and freezer friendly aluminum alloy.
Price: $83.00
Available: This item is available in the store.