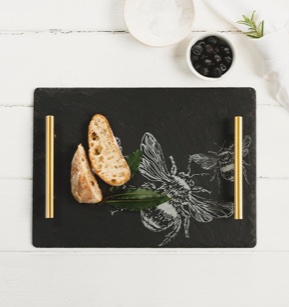 Present your favourite appetizers, charcuteries, drinks, desserts or cheeses on this stylish engraved bee serving tray.
Beautiful gold handles create a striking contrast with the dark slate, and complement the trio of bee engraving.
Hand cut in Scotland from high quality slate.
Sold out…new shipment from Scotland due mid-June.  Please text/call us at 440-892-7600 if you would like us to contact you
when the shipment arrives.
Price: $65.00
Available: This item is available in the store.