Engagement Rings in Cleveland, OH
Solidify your commitment to lifelong love and devotion with stunning Cleveland engagement rings from Yeager Jewelers.
Engagement proposals are one of the most meaningful moments that you and your partner can cherish forever. The day you decide to spend the rest of your lives devoting yourselves to each other is truly a story worth being told year after year.
Finding the perfect engagement ring is essential in making your engagement unforgettable and extra special. Engagement rings are one of the highlights of marriage proposals, so choosing the right one should be properly planned out.
At Yeager Jewelers, we understand that selecting your dream engagement ring can be quite a challenge, considering the volume of options. For this reason, our expert jewelers will work closely with you to help you find the perfect ring that suits your style, budget, and preference.
Our extensive collection of the finest engagement rings in Cleveland, OH, includes modern and classic designs. If you and your partner want to add your personal touch, our talented artisans and goldsmiths can help you create an engagement ring that is uniquely your own.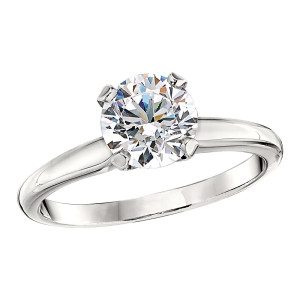 Choosing the Perfect Engagement Ring 
There are several factors involved in choosing the perfect engagement ring, some of which are budget, personal style, and comfort. Knowing where to start can be daunting unless you seek advice from expert jewelers.
At Yeager Jewelers, our well-experienced jewelers will give you engagement ring recommendations in Cleveland, Ohio. Our team will make it simple for you to find the perfect ring you and your partner can treasure forever. Here's how we do it:
1. Finalize the ring size. 
Determining the correct ring size can be a bit tricky. At Yeager Jewelers, we can help you find the right ring that fits perfectly from the start.
While visiting our store to view our collection of engagement rings in Cleveland, OH, you can reach out to one of our staff to help you measure your and your partner's ring sizes.
2. Choose the ring setting.  
One element to consider when choosing the right engagement ring in Cleveland, OH, is the ring setting. The ring setting refers to how the diamond or gemstone is mounted. It is an essential factor that highlights your chosen centerpiece.
Our Cleveland, Ohio, engagement ring setter can help you choose and craft the perfect ring setting that complements your chosen centerpiece. Whether you want solitaire, halo, or channel, we offer a wide variety of options for you to choose from.
 3. Select the metal. 
The color and type of metal you choose for the band influences the overall tone, character, and longevity of your engagement ring. As such, it's best to ask for help from expert jewelers when deciding on which metal type suits your style, skin tone, and personal preference.
At Yeager Jewelers, our Cleveland engagement rings are made from precious metals, such as yellow gold, rose gold, and white gold. We also offer hypoallergenic options, such as platinum, for those with allergies. Regardless of which metal type you choose, we have you covered.
4. Find the right gemstone. 
Selecting the right gemstone starts with learning the different color, cut, clarity, and carat options you have for your centerpiece. The common choice of gemstone among the engagement ring recommendations in Cleveland, OH, is diamond, but you can always divert from the usual and choose something different.
Yeager Jewelers also offers custom engagement rings in Cleveland, OH, so you can optimize your centerpiece and maximize its beauty. You can find inspiration from our collections. We display a variety of bridal pieces adorned with different gemstones, from sapphires, rubies, emeralds, to even pearls.
Why Choose Yeager Jewelers 
Yeager Jewelers has been the primary source of the finest Cleveland engagement rings since 1974. We carefully select our pieces from exquisite brands and trusted designers. With our years of being the premier provider of bridal pieces in Ohio, we have gained ample experience in helping couples find the best engagement rings.
Our expert jewelers and talented artisans are here with you every step of the way, from consultation and design planning to the actual production of custom engagement rings in Cleveland, OH. We want you to feel confident about the jewelry you wear from our collections, so we only feature responsibly and sustainably made pieces.
We offer other complementary services to help you give the best care to your jewelry pieces. Our services include jewelry repair, cleaning, design consultation, and gift wrapping. If you buy directly from our store, our team can also provide you with watch band sizing and jewelry appraisal services.
Our Bridal Collection 
Engagement rings mark the beginning of the journey you will embark on together as a couple. For this reason, Yeager Jewelers is serious about providing you with the most brilliant bridal pieces that represent your relationship.
Aside from engagement rings in Cleveland, OH, our bridal collections include diverse pieces for couples of all ages. We offer:
JABEL Design Collection
DeMarco Design Collection
JFA Design Collection
Coast Diamond Rings
Diamond and Gemstone Bands
Wedding Bands
Explore Our Collection 
Make your proposal unforgettable through the finest engagement rings from our collection.
If you're looking for a jewelry shop that offers elegant engagement rings in Cleveland, our doors at Yeager Jewelers are always open for you. We take pride in providing exceptional jewelry pieces and giftware. For more information, call us now.