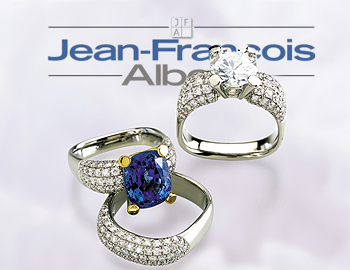 At age 15, Jean-Francois Albert began a jewelry apprenticeship in his hometown of Lausanne, Switzerland.  After 4 years of learning the trade, he won his first  job working for Piaget, where he perfected his designing and bench skills.
Albert's design talent is recognized throughout the jewelry industry.  He has been awarded the prestigious DeBeers Diamonds Today Award four times and is a three-time winner of the American Gem Trade Assoc. Spectrum Design Competition.  He has earned membership in the highly respected American Jewelry Design Council, where he is accompanied by 25 of America's most influential and talented designers.
His designs are contemporary and he uses the unusual, yet incredibly comfortable square finger shape of the rings.