Engagement Rings near Avon, Ohio
Celebrate your love for your significant other with Yeager Jewelers' exceptionally crafted engagement rings near Avon, Ohio.
The meaning of engagement rings has evolved over time. Back then, they were given as a form of dowry without any emotional meaning attached. Nowadays, engagement rings have become a symbol of commitment and devotion.
Their circular shape, without beginning and end, has become a universal symbol of faithfulness and everlasting love. As such, it's best to work with an expert when choosing the right engagement ring that signifies your love and loyalty to your special someone.
At Yeager Jewelers, our trained and certified gemologist, Jack Yeager, is more than happy to assist you in your search for the perfect ring. We have an extensive collection of engagement rings near Avon, Ohio. Our pieces are adorned with various types of elegant jewels and gems. If you have your own design in mind, our team of talented goldsmiths and designers can also help you create customized pieces.

Choosing the Perfect Engagement Ring 
With the volume of styles and designs of engagement rings near Avon, Ohio, finding the perfect one can be quite challenging. At Yeager Jewelers, we'll walk you through all the things that you need to know when buying engagement rings.
Here's a quick guide to help you find the best Avon, OH, engagement ring:
1. Know the ring size.
The correct size is essential to ensure that the ring will slide on perfectly and not fall off when worn. At Yeager Jewelers, we offer stunning engagement rings near Avon, Ohio, for all ring sizes.
You can use our size chart as a guide when choosing the right size for you and your spouse. You can also opt to get your measurements taken by one of our knowledgeable staff.
2. Choose the ring setting.
The ring setting determines how a diamond or gemstone of your choice will be centered and mounted on your ring. At Yeager Jewelers, our engagement rings near Avon, Ohio, come in diverse ring settings.
From solitaire, bezel, channel, and halo, we have a variety of ring setting options for you to choose from. Our goldsmiths can also craft the perfect ring setting that reflects your style and preference, may it be contemporary or traditional.
3. Select the metal.
The durability and character of engagement rings depend on the metal, so choosing the right type and color plays a vital role. It's best to seek help from experts to ensure that you pick rings with a metal type and color that suit you.
At Yeager Jewelers, our engagement rings near Avon, Ohio, are made from durable metals, including platinum, yellow gold, white gold, and rose gold. Depending on your preference and budget, we can help you choose the best type and color.
4. Find the right gemstone.
One of the most critical factors to consider when looking for engagement rings is the centerpiece stone. You need to decide on the cut, carat, color, and clarity grade of the gemstone.
At Yeager Jewelers, our trained gemologist will assist you in choosing precious gemstones, such as diamonds, emeralds, sapphires, and rubies. You can also explore and find inspiration from our diverse collection of engagement rings or request a customized handcrafted design.
Why Choose Yeager Jewelers   
Since 1974, Yeager Jewelers has been offering the finest engagement rings near Avon, Ohio. Our extensive collection of rings and wedding bands are carefully handpicked from skilled designers all over the world.
We also design custom engagement rings near Avon, Ohio, for couples who would love to add their personal touch to their accessories. Our expert artisan will be happy to offer ideas and suggestions during the design process. By pouring their passion into every detail, our goldsmiths can craft the perfect engagement ring that highlights your eternal love.
Our Bridal Collection 
Yeager Jewelers offers a diverse bridal collection for couples of all ages. Whether handcrafted bridal pieces or designer jewelry, we have everything you need to pronounce your undying love and loyalty.
While we help you in finding the Avon, OH, engagement ring of your dream, you can also explore our other bridal pieces, such as: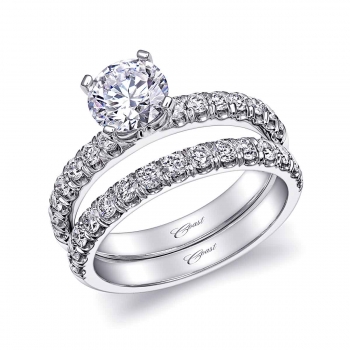 Coast Diamond Rings
Diamond and Gemstone Bands
Wedding Bands
JABEL Design Collection
DeMarco Design Collection
JFA Design Collection
Explore Our Collection 
Browse through our wide collection of the most elegant and beautiful engagement rings near Avon, Ohio.
Yeager Jewelers takes pride in providing top-notch quality engagement rings near Avon, Ohio. Our store is located in Westlake and is just 15 minutes away from Avon. Visit our store today. We look forward to being part of your journey as a couple.