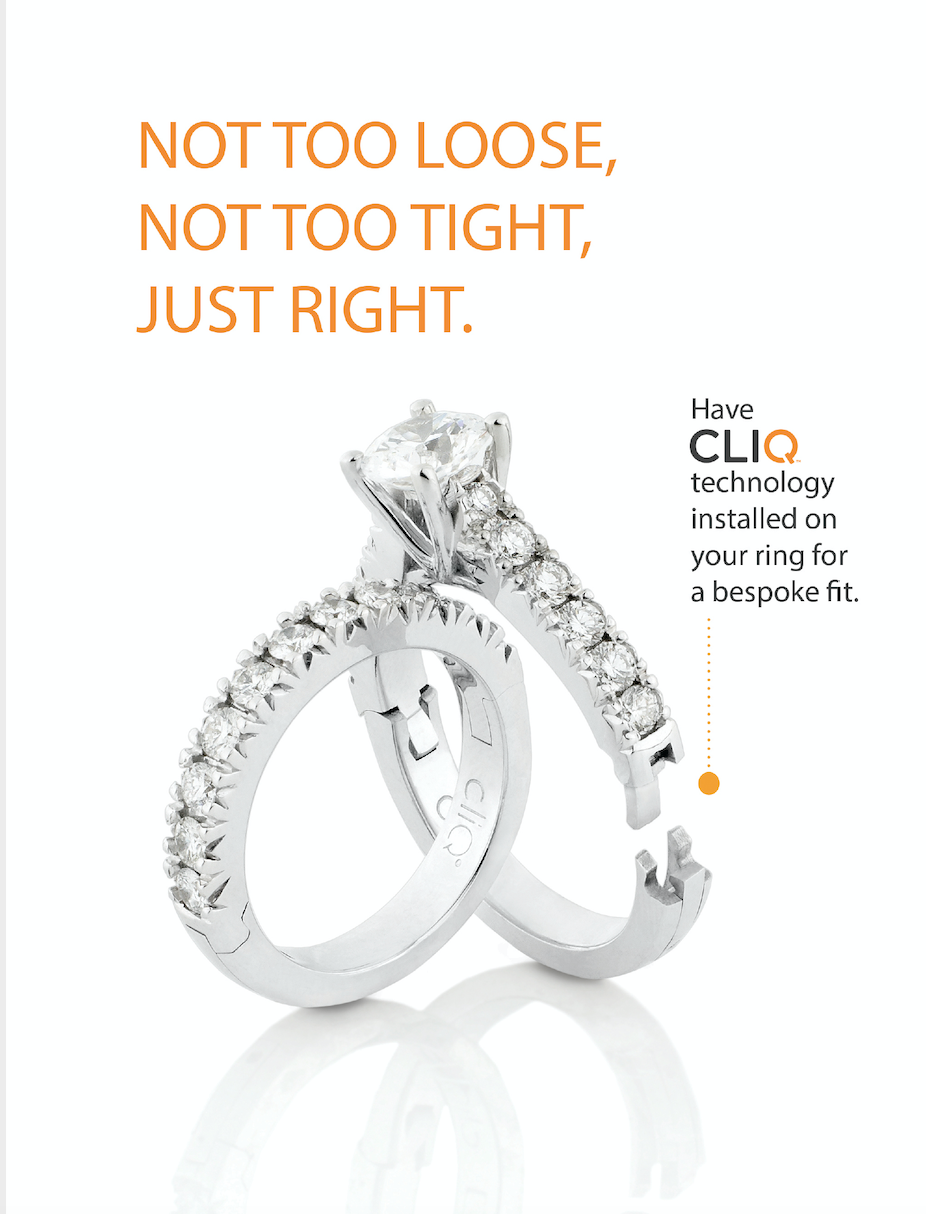 THE SECRET TO A PERFECT FIT….
The most expensive – and precious – thing you're wearing probably
doesn't fit. CLIQ technology changes that.
What is CLIQ?
Simply put, CLIQ is the secret to the perfect ring fit. Refined for almost two decades, our industry-leading technology creates a nearly invisible hinge that gives your jewelry an entirely new dimension.
A PERFECT FIT. EVERY RING. EVERY TIME.
CLIQ's dedication to combining precise engineering with artisan craftsmanship ensures comfort, security, and a proper fit.
YOUR FINE JEWELRY DESERVES A CUSTOM FIT.
Whether it's the ring with which you exchanged your vows, or the ring you worked hard to put on your own finger, your jeweler can seamlessly integrate CLIQ technology into your existing jewelry.
EVERY RING IS UNIQUE…
No matter the age, style, or design, we can integrate our patented hinge and latch system into virtually any ring. Our highly-skilled team brings generations of expertise to each, and every, piece of jewelry they touch. The beauty of your original ring will remain – what you'll gain is the perfect fit.
RINGS ARE FOR FINGERS, NOT KNUCKLES
Traditional rings have to be large enough to pass over the knuckle. Without CLIQ technology, rings are sized for the largest part of your finger, rather than the base, where it is actually worn. That's why most rings will twist, turn, and slip off. CLIQ technology eliminates the problem by opening and closing around the base of your finger, in the perfect position.
IS A RETROFIT RIGHT FOR ME?
Rings are typically sized based on your knuckle, not the base of your finger. Unfortunately, that means that traditional rings quite often fit poorly. If you find that your ring twists, turns, slips or is difficult to take off and on, you should consider CLIQ technology.
In addition to improper sizing, a CLIQ retrofit might be necessary if your fingers suffer from any of the following conditions: arthritis , pregnancy, athletic lifestyle, size fluctuations.
TECHNOLOGY YOU CAN TRUST
We know that every piece of jewelry is valuable. Beyond the price tag, our most prized possessions often have priceless sentimental value. That's why we analyzed every detail when designing the CLIQ system, ensuring a technology that you trust with your most precious jewelry.
SEAMLESS INTEGRATION
CLIQ's hinge and latch design is virtually invisible and snag-free- an exquisite combination of micro-engineering and a jeweler's design artistry. CLIQ adds the ability to open and close, but won't sacrifice the smooth look and feel of precious metal and will blend seamlessly into any design.
THE CLICK OF CONFIDENCE
You'll hear it. That comforting "click" that tells you your ring is securely closed. To activate the mechanism, simply press the "dimple" with the precision stylus. CLIQ is designed for ease of use and without snagging your clothing, catching on your hosiery or chipping your nails. Durable enough for everyday use, CLIQ comes with a five-year guarantee.
<a href="https://www.yeagerjewelers.com/wp-content/uploads/2019/10/Image-J-628×500.jpg"><img class="alignnone size-medium wp-image-13894″ src="https://www.yeagerjewelers.com/wp-content/uploads/2019/10/Image-J-628×500-300×239.jpg" alt="" width="300″ height="239″ /></a>